DAPAD STARTED DIRECT ACTIONS IN NOVEMBER 1999
THE DAPAD FOUNDATION then organized an international one day seminar on African Development in collaboration the United Nations University in November 1999. There after we have carried out multiple direct actions in conjunction with the TICAD process conferences and follow up activities in Japan, in African, and elsewhere to promote everlasting human and organizational awareness toward integrating Africa into the future and the rest of the world.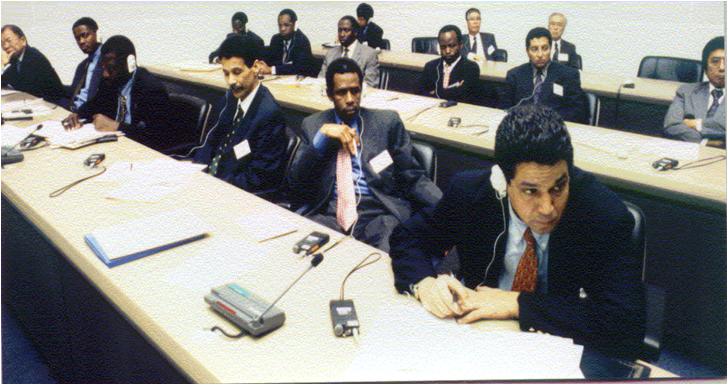 THE DAPAD FOUNDATION is an international organization devoted to the promotion of African development around the world .Although Africa is the richest continent in the world, it is only recognized as the world symbol of poverty. THE DAPAD FOUNDATION was established to wash away this poverty image by developing individual and organizational self reliance awareness through the INSOWEL program. It was established to promote mutual understanding among African people, Japanese, and the rest of the world. THE DAPAD FOUNDATION is actively working for a uniform development through target oriented development projects and risk-free technology transfer to help implement global development agenda such as the Tokyo Agenda for Action of the TICAD II published in October 1998 and the various capacity building initiatives launched so far. We firmly believe that a dynamic and sustainable collaboration in a spirit of partnership for interdependence is the key for a global human and economic development; there is no such thing as something for nothing, to live together we must give value and receive value. Africa has a great deal of values to contribute to the global asset.
---
The Direct Actions for the Promotion of African Development
アフリカ開発、発展のための実際的な活動を促進する財団
IMPACTING AFRICAN DEVELOPMENT WITH
THE INTEGRATED SOCIAL WELL-BEING(INSOWEL)
DEVELOPMENT PROGRAM
AS SUMMARIZED BELOW AND DESCRIBED ELSEWHERE .
The purpose of THE DAPAD FOUNDATION is to carry out activities that promote higher awareness in African people/organizations for self-reliance and interdependence with the rest of the world, in favor of prosperity cultivation and a uniform and sustainable development in African countries., Such activities include technology transfer operations(FDIs>LDI linkages), Dynamic Academic Cooperation(DAC), and culture exchange. And we hope to thereby contribute to an enhancement of mutual understanding between Africa and the rest of the world. These activities are realized through the implementation of the INSOWEL Program:

(1) Medical and social insurance, (2) Construction of drinking and industrial water supply facilities, (3) Environment

preservation projects implementation,(4) Activities to contribute to local safety, (5) Activities to protect human rights and peace,(6)Activities to promote international collaboration,(7) Activities to induce the development of information society, (8) Activities to induce science and the technology innovation,(9) Activities to promote economic development interactions,(10)Activities to provide communication channels, advice or assistance to the management of associations conducting activities mentioned above,(11)Activities to provide training and certification for specific abilities,(12)Activities leading to the establishment of the African Future University(AFU).